By Alan Porter
Updated: Friday, March 5, 2010 8:58 AM
Posted: Thursday, March 4, 2010 10:34 AM
One of last year's top juveniles recently reappeared in black-type company in the one-
mile Sportsman's Paradise Stakes The race at Delta Downs witnessed Bashford Manor (gr. III) and Sanford Stakes (gr. II) winner Backtalk   face the starter for the first time since his disappointing effort in the Dixiana Breeders' Futurity (gr. I) last October.
Backtalk's pedigree might not be a particularly flashy one, but there is no denying that he's classically-bred. His sire, Smarty Jones  , came close to claiming the Triple Crown; his broodmare sire, Affirmed, is the last horse to that coveted prize; and his second dam is by a son of Nijinsky II, the last horse to capture the English Triple Crown.
After taking the Kentucky Derby and the Preakness Stakes (both gr. I), Smarty Jones produced one of the greatest losing efforts in classic history in the Belmont (gr. I), which proved to be his final start and his lone defeat. Prior to the classic, his 3-year-old season had brought wins in the Count Fleet, Southwest, and Rebel Stakes, and the Arkansas Derby (gr. II). He'd started just twice at 2, taking a Philadelphia Park maiden by 7 1/2 lengths and the state-bred Pennsylvania Nursery Stakes at the same track by 15 lengths. A son of Elusive Quality  , out of a mare by champion sprinter Smile, from the Striking branch of the La Troienne family, Smarty Jones was the subject of intense competition from stallion farms. Ultimately, he went to Three Chimneys Farm in an unusual deal that saw the creation of a 60-share syndicate with a 50% percent interest in the horse being retained by his owners, Roy and Pat Chapman.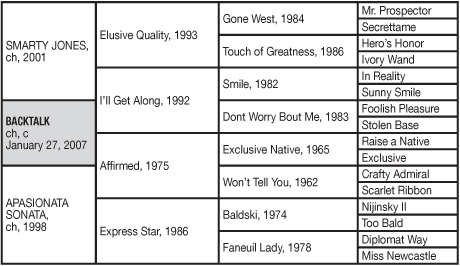 That the progeny test is as merciless as the Belmont Park homestretch is borne out when we chart the course of Smarty Jones' stud fee. He retired at an asking price of $100,000 in 2005; was advertised at "Private" for 2009, after his first 2-year-olds had completed their first season; and for the current season is just $10,000. The first crop actually produced just one winner of black type, the Puerto Rican grade III scorer La Equivocada, although we should note that the best horse in the crop was probably the Darley Alicibiades Stakes (gr. I) runner-up Be Smart, and that there was also a non-black-type stakes winner in the shape of Sarah Cataldo, who took the Tax Free Shopping Distaff Stakes at Delaware Park. Backtalk is the first stakes winner from his second crop. It would be trite to state that "Smarty" hasn't done all that his connections would have hoped since he retired to stud, but he does have some interesting elements in his pedigree, and let's hope that his current stud fee, combined with some shrewd matings, allows some smaller breeders to catch lightning in a bottle.
It's appropriate that Backtalk's dam, Apasionata Sonata, should have produced the best runner for her sire to date, as the mare was purchased in foal to Pulpit for $325,000 by Brent Furnung on behalf of Cloverleaf Farm. Fernung as agent also purchased I'll Get Along – dam of Smarty Jones – for $130,000 at the 2001 Keeneland November sale, when Smarty Jones was a weanling. If Backtalk scores in the Derby, Fernung will be able to claim a tremendous hat trick, as he also purchased Eileen's Moment prior to her son Lil E. Tee's capturing the 1992 Kentucky Derby (gr. I). Fernung mentioned that, while all three mares might have had different backgrounds, they shared a very similar top line and hind leg.
The Pulpit   foal that Apasionata Sonata was carrying at the time of her purchase — her first — turned out to be Bsharpsonata, winner of seven races and nearly $600,000, including the Forward Gal Stakes and Davona Dale Stakes (both gr. II). She was also second in the Ashland and La Brea Stakes (both gr. I). Apasionata Sonata's second foal was a Giant's Causeway colt that never ran, and Backtalk is her third foal. In 2008, after foaling a First Samurai   colt, she went through the Keeneland November sales ring for $1.5 million carrying a brother to Bsharpsonta.
If not as prolific as Bsharpsonata, Apasionata Sonata was a smart runner in her own right, winning four races for $155,535 and earning a black-type win in the listed Kentucky Cup Ladies Turf Stakes. Her dam, Express Star (by Baldski, a speedy Nijinsky II half brother to Capote and Exceller), was a tough and versatile performer, equally at home on dirt and turf, and won 13 of her 45 starts, including seven stakes, all at Calder.
Apasionata Sonata is an interesting mare in that she has produced two graded winners from two starters, neither on particularly prolific crosses. Bsharpsonata is one of only two stakes winners sired by A.P. Indy-line stallions out of Affirmed mares, and Backtalk is the only Gone West-line stakes winner out of a mare by Affirmed (although he's rated TrueNicks B+ on the broad cross of Elusive Quality and his sons with Raise a Native). When I queried Brent Fernung about the choice of Smarty Jones as a mate for Apasionata Sonata, he told me that looking at Smarty Jones, and noting that he had little of either his sire of dam about him, he considered him to be far more typical of In Reality (who is responsible for Smarty Jones' broodmare sire, Smile), and he felt that In Reality would be a good influence with the mare. A little research bears out that Fernung's instincts were on the money, as In Reality combines with Exclusive Native (sire of Affirmed) in at least 57 stakes winners, including 23 graded and four grade I, Affirmed being the source of Exclusive Native in 14 of the stakes winners.
Another strange thing hit us looking at the pedigrees of Pulpit and Smarty Jones – the sires of the two graded winners out of Apasionata Sonata. Initially, one would not consider them to be bred in a particularly similar way, but in fact there are a lot of commonalities in their backgrounds, both having Mr. Prospector, Northern Dancer, Tom Fool, line-breeding to Bold Ruler through Boldnesian, What a Pleasure and Secretariat, and a cross of Secretariat's half brother, Sir Gaylord.
[button link="http://www.bloodhorse.com/horse-racing/articles/55699/backtalk-looks-to-follow-smartys-hoofprints#ixzz25Q82pesb" color="silver" window="yes"]Article Source: BloodHorse.com[/button]